Importing photos and videos
Once your Spectacles are paired with your phone, they can wirelessly import your 3D photos and videos (also known as "Snaps") into Snapchat. You'll find them in the 'Snaps' tab in Memories.
Import times may vary, depending on the type and amount of Snaps you've taken. The import process can also look a little different, depending on your phone and operating system.
Before importing Snaps from Spectacles, be sure to:
Verify Spectacles have more than 10% battery life.

Turn on your phone's Bluetooth and Wi-Fi.

Have your Spectacles close to your phone.
Once that's all squared away, you're ready to import. Watch this video to learn how:
If reading is more your speed, follow the instructions below:
Open Snapchat, swipe up to Memories, and tap on the 'Snaps' tab. You should see circular thumbnails of your content that's ready to import. Tap the 'Import' button on the right of those thumbnails to start importing your Snaps. iOS users will need to tap 'Join' to connect to Spectacles' Wi-Fi and start importing. Importing should begin automatically for Android users.
A push notification should appear when your Snaps are available to import.
Android users are able to import Snaps automatically, without needing to open Snapchat. Here's how to enable this feature:
Open Snapchat and swipe up to Memories.

Tap on the Spectacles button in the upper-right corner.

Tap on your Spectacles under the 'MY SPECTACLES' section.

Tap the box under the 'BACKGROUND IMPORT' section to enable.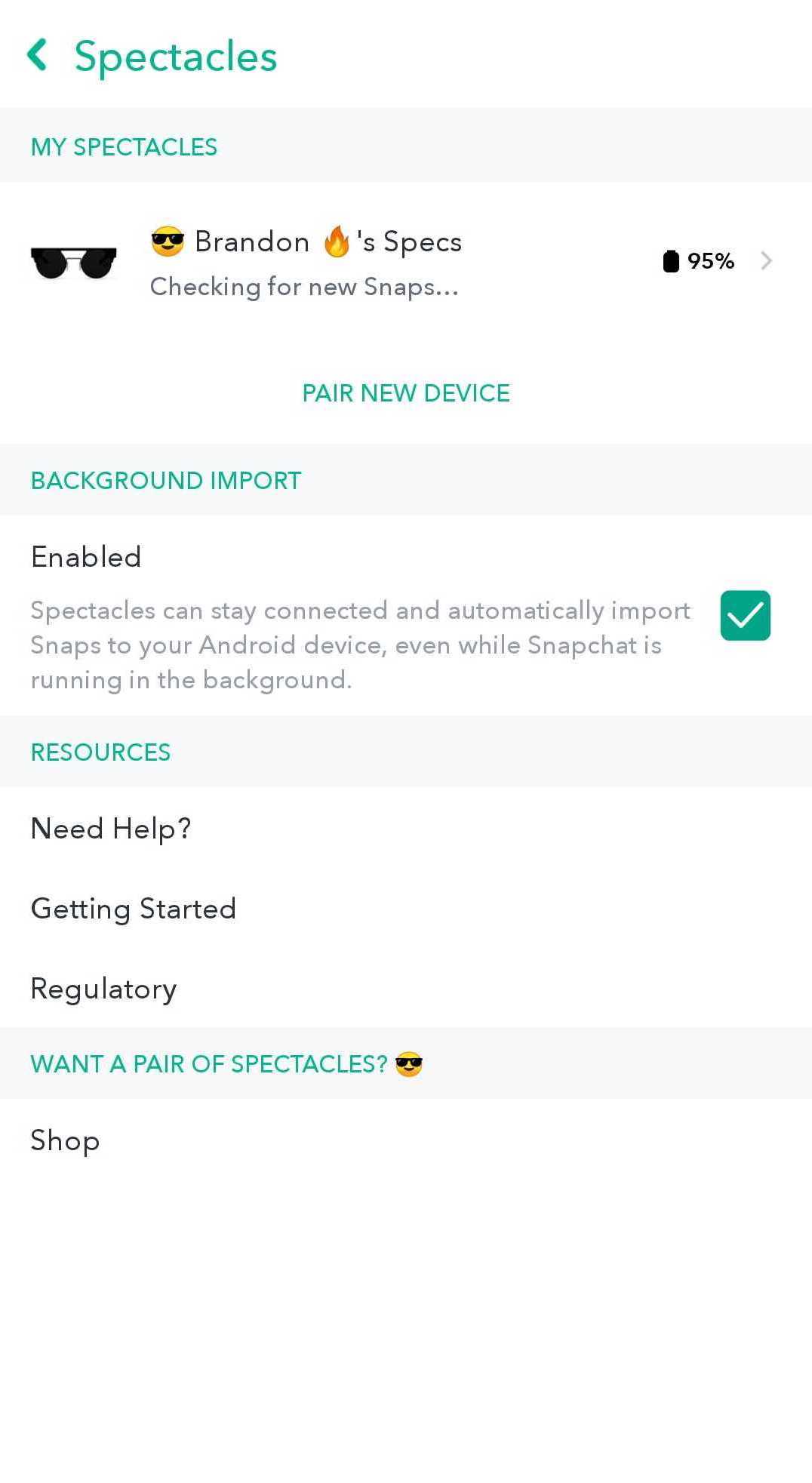 If you'd like to see your import process when automatic import is enabled, simply open Snapchat, swipe up to go to Memories, and tap on the 'Snaps' tab.
Snaps will import and automatically sort themselves based on when they were taken, starting with your most recent Snaps. You can use the scrollbar to scrub through your saved Snaps quickly.
Snaps captured with Spectacles will appear alongside Snaps you've saved from Snapchat — but they'll have the Spectacles logo in their upper-left corner. Snaps that have 3D capabilities will have a

button on their lower-left corner.
Taking a photo or video while you're importing Snaps will interrupt the process. Wait until the import is complete, or cancel the import, before taking more photos and videos.
Not seeing any Snaps available for import?
Spectacles can only be paired to one Snapchat account at a time. Make sure your Spectacles are paired and actively connected with your phone.
If they are, try turning Bluetooth off, then power off your phone. Wait a minute, then power your phone back on. When your phone has powered on again, turn Bluetooth on as well. Head to the 'Snaps' tab in Memories to see if any Snaps are available to import.
Important ⚠️ If you still have Snaps that are backing up to Memories, do not sign out of Snapchat, log in to your account on another device, or delete the Snapchat app. If your Memories are backing up and the process is interrupted, you may not be able to recover them.