December 2021 - V4.071.0043
Update Your Spectacles!
Please make sure you update to the latest release from your Spectacles Home to get the best experience. Tap the button "Spectacles Update Available".
Using Experimental Features and APIs
How to enable experimental features and use experimental APIs
Experimental features evolve quickly and have the following limitations:
Experimental features may be modified or deprecated without notice
Lenses built on top of some experimental features may not be publishable and may not work as expected in Snapchat
Enable experimental features via the Spectacles Settings tab in Snapchat. Some experimental features will be off by default.
To use experimental APIs in your Lenses, you must also enable the "Allow Experimental API" feature in Lens Studio in two places:
1. Lens Studio preferences (do this first)
2. Project Info (do this second)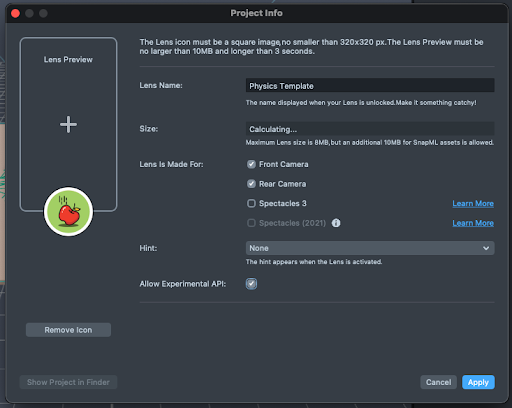 Physics (Beta)
Add realistic dynamic effects to objects in your Lenses using physics on Spectacles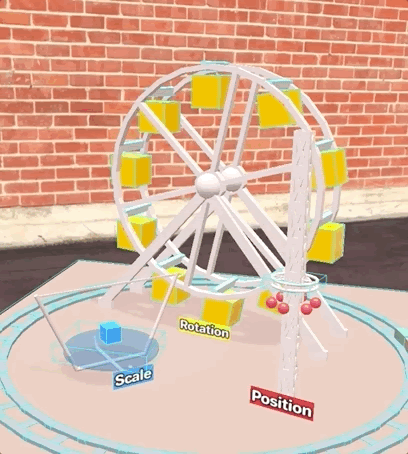 At Lens Fest, we announced the addition of a physics engine to Lens Studio as a beta release. This includes support on Spectacles, where you will be able to make your virtual objects respond to gravity, forces, and other effects.
Check out the physics template for examples of using physics in Lens Studio on your Spectacles.
Lens Explorer - Spectacles Tab
Explore inspiring new Lenses made for Spectacles in Snapchat
Over the past several months, the community of Spectacles creators built Lenses that showcase what Spectacles can do. But for a long time, it's been difficult to track them down.
With this release, we added a dedicated Spectacles tab in the Snapchat app to make it easier to find Spectacles Lenses. We hope you enjoy seeing what other people build, and maybe get inspired to make something new.
From the Snapchat app, navigate to Lens Explorer, open the Spectacles tab, and select a Lens to launch on Spectacles.
As a reminder, you can try launching other Snapchat Lenses on your Spectacles directly from your Snapchat app. This can be handy when showing off Spectacles to others. To get started, find a Lens, tap on the info icon, and find the 'Launch on Spectacles' option.
Connected Lenses - Solo Mode
Try out shared AR experiences on your own
Previously, we launched Connected Lenses on Spectacles, enabling you to build shared AR experience with others in the same space. To inspire you, we built SoundShare, a multiplayer, colocated creation experience where players can add or remove notes to a shared music player.
In this release, we made UX improvements, and introduced the ability to launch Connected Lenses on Spectacles in solo mode. This makes it easier to test and try out these experiences alone.
Improved Direct Import to Memories
Easily import Snaps to your Memories on demand
Based on your feedback, we have reworked the process for importing Spectacles Snaps into the Snapchat app and made it significantly faster and more reliable.
To import your Snaps, go to the Memories tab in the Snapchat app and tap "Import" on the content bar. Your Snaps will be imported directly to your memories over Wi-Fi. Keep in mind that it will take a few moments after your display turns off for transcoding to complete before your content bar in memories appears.
If you don't need to import them right away, just place Spectacles on a charger. They'll automatically back up your Snaps and send them to your Memories.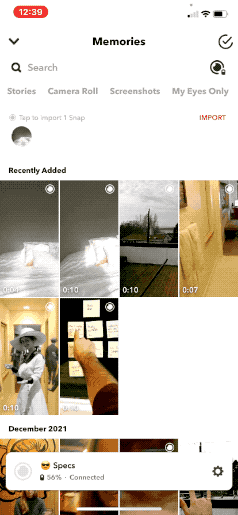 Spectacles Passcode
Protect the privacy of your Spectacles using a personal pass code
To improve the security and privacy of your Spectacles, we are introducing a lock screen and passcode feature. Your personal passcode is used to encrypt your Spectacles content while not in use.
You may set up a passcode as part of your Spectacles onboarding flow upon initial setup, after a factory reset, or by navigating to your Spectacles settings in Snapchat and selecting Device Security.
Increased Lens Local Storage Capacity
Store and persist more data in your Lens on Spectacles
We increased the size of local storage for each Lens from 3 kB to 10 Mb. You can now store data in your Lens in between user sessions.
3D Hand Tracking Latency (Experimental)
Improvements to 3D hand tracking latency
Previously, we introduced support for 3D hand tracking on Spectacles as an experimental feature. In this release, we are introducing improvements to the latency of 3D hand tracking on Spectacles.