About Spectacles storage
Spectacles 3 have a storage capacity of 4 GB — which allows them to store up to 100 videos or 1,200 photos (also known as "Snaps") at a time.
If you see the internal LED flash red three times, then blue — that means that you've run out of storage space. To make room on your Spectacles, you'll need to import photos and videos from your Spectacles into Memories in Snapchat.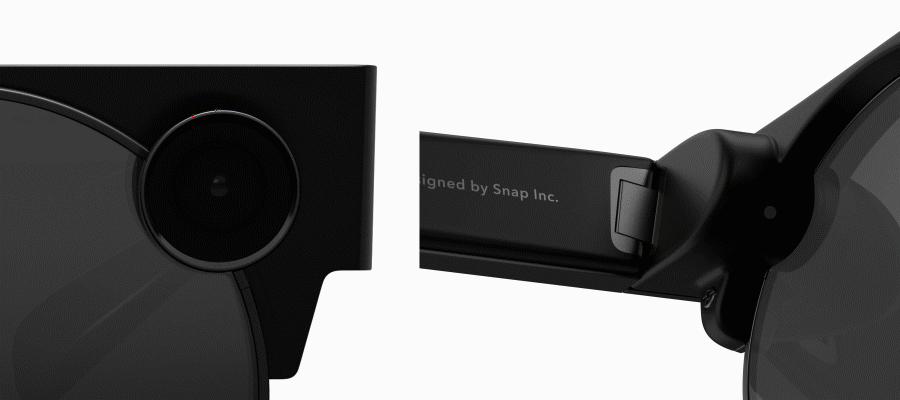 By default, Snapchat will back up these Snaps whenever you're connected to Wi-Fi. You can also update your Memory Settings to allow Snaps to back up over your cellular data, if you'd like. You'll need to have the Snapchat app opened on your phone to initiate a backup.
How to tell if Snaps are backed up
Snaps you've imported from your Spectacles will automatically be backed up in Memories. Snaps will have the 🔄 icon in the upper-right corner if they're in the process of being backed up. Once they're successfully backed up, the 🔄 icon will disappear.
If you ever want to make sure that your Snaps have backed up properly, you can double-check through these steps:
Tap your Profile button in the upper-left corner.

Tap the ⚙️ button in the upper-right corner.

Tap '

Memories

'.
Under the 'STORAGE' section, check the 'Backup Progress'. If it says 'Complete', you're good to go!
If 'Backup Progress' says '# Snaps Remaining' or 'No Network Connection', then your Memories are not finished backing up. Make sure your device has good cellular data service or is connected to Wi-Fi.
Do not sign out of Snapchat, log into Snapchat from another device, or delete Snapchat if Memories aren't finished backing up! If you do, it may not be possible to recover any Snaps that weren't successfully backed up.
If you'd rather just delete the Snaps that are currently stored on your Spectacles instead of importing them to Memories, you can always do that, too.
Here's how to delete Snaps from your Spectacles without importing them:
Swipe up to Memories in Snapchat and tap the Spectacles button.

Tap on your Spectacles under the 'MY SPECTACLES' section.

Tap '

Clear Spectacles Storage

' under the 'ACTIONS' section.

You'll be asked to confirm to delete these Snaps.

Remember: this can't be undone!