Editing, Sending, and Saving 3D Snaps
You can edit Snaps you captured with Spectacles with Snapchat's suite of Creative Tools.
Here's a quick list of Creative Tools you can use to edit a Snap:
Text:

Add a caption or two for context

Doodle:

Draw right on top of photos and videos

Stickers:

Add emojis, Bitmoji, GIFs, and more

Scissors:

Create your own stickers from almost anything

Web Attachments:

Add a URL to your Snap

Timer:

Choose how long you want your friend to view a Snap, from 1-10 seconds or ♾️

Loop:

Choose whether you'd like a video to play on loop or just once

Voice Filters:

Change your voice or mute the Snap altogether

Filters

: Mix in artwork based on your location — though you'll need to enable

Location Data
3D Effects:

Add

new lighting, landscapes, and other magical effects to an entire scene with a swipe

Trim

: Shorten the length of your videos to get the perfect shot (iOS only)
How to edit and send a Snap:
Go to the '

SNAPS

' tab in Memories.

Press and hold on the thumbnail of the Snap you'd like to edit.

Tap '

Edit Snap

' to personalize your Snap with your favorite Creative Tools. After

converting your Snap to 3D

, you can swipe left to add 3D Effects to photos and videos.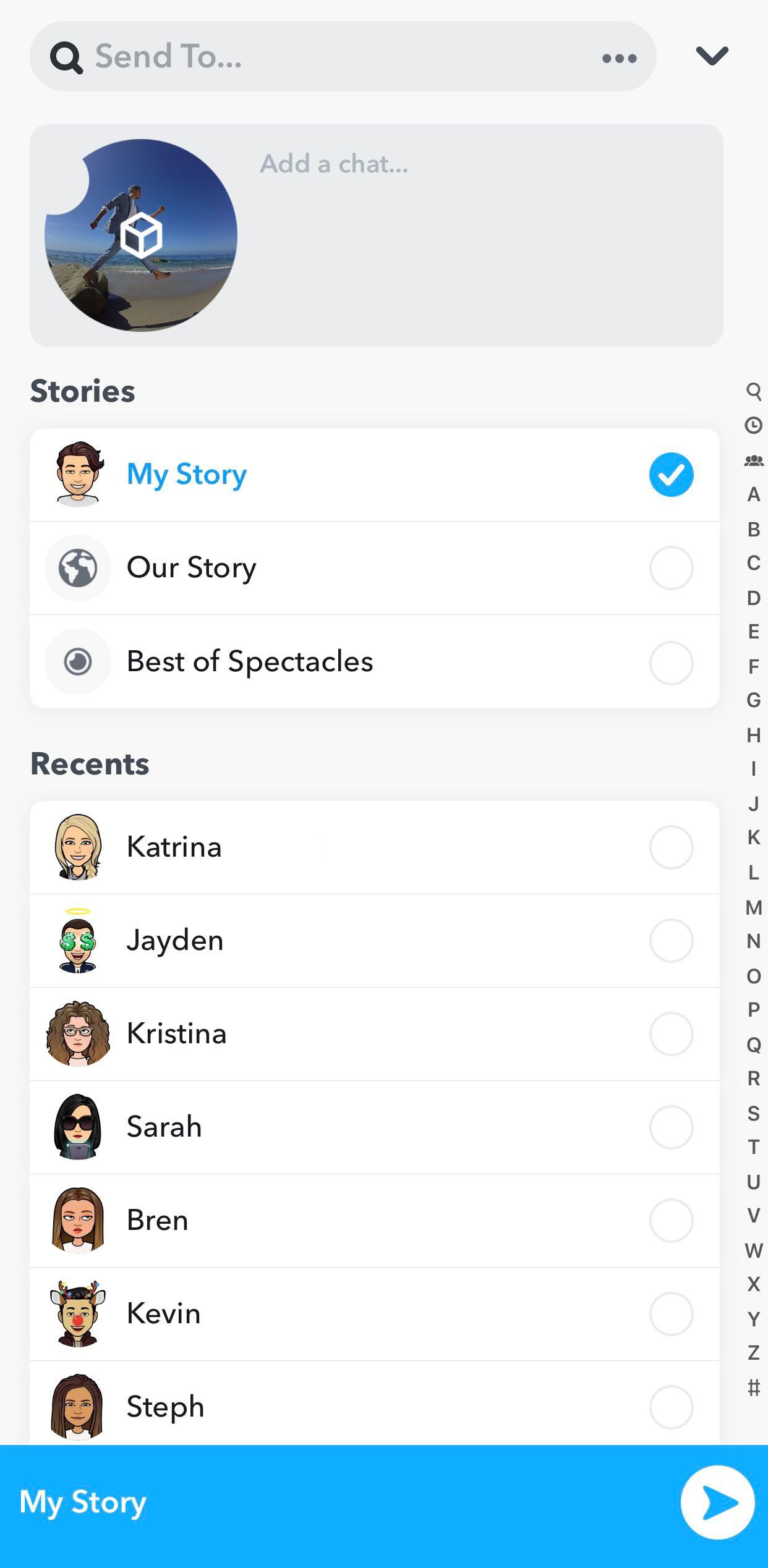 Although Spectacles capture Snaps in HD, some Snaps may be added to My Story or Our Story in slightly lower quality to save you uploading time and cellular data.
After you edit a Snap, you can overwrite your original Snap or save a new one as a copy. Keep in mind: if you overwrite that Snap, you won't be able to undo those edits!
How to trim a Snap:
Go to the '

SNAPS

' tab in Memories.

Press and hold the thumbnail of the Snap you'd like to trim.

Tap '

Edit Snap

'.

Tap on the Snap thumbnail on the lower-left corner.

Drag the handles on either side to create your shortened video.

You can choose to save your newly trimmed Snap as a copy or discard it.
Remember, a Snap needs to be longer than 10 seconds to be trimmed. This feature is currently only available for iOS users.
Best of Spectacles
You can also submit your favorite moments to "Best of Spectacles" to share them with the world! Best of Spectacles works similarly to Our Story on Snapchat. Snaps you submit to Best of Spectacles can show up in Discover, on Snap Map, or even on third-party platforms — like @Spectacles on Instagram or on the jumbotron while you're at a game!